We have the following courses on offer as part of our Youth and Careers programme:
Purpose
At the successful completion of the course the student will be able to: Establish the principles of leadership and look at setting an example , valuing, inspiring, and engaging their team through effective communication, managing change and the impact on the team of managing noncompliant or difficult staff.
NZQA Unit Standards
| | |
| --- | --- |
| 1307 | Speak to a known audience in a predictable situation (Level 3, 3 credits) |
| 1312 | Give oral instructions in the workplace (Level 3, 3 credits) |
| 27563 | Describe teams and team leadership (Level 3, 4 credits) |

Course Duration
2 Days
Purpose
Students will learn about the requirements of Health and Safety in the workplace in a way that builds trust, confidence, and promotes teamwork.
NZQA Unit Standards
| | |
| --- | --- |
| 497 | Workplace health and safety requirements (Level 1, 3 credits) |
| 14609 | Describe risk factors that contribute to injury on construction sites (Level 3, 3 credits) |
| 17591 | Prevention and management of discomfort, pain, and injury (DPI) (Level 3, 4 credits) |
| 17592 | Causes and preventions of back injuries (Level 3, 4 credits) |
| 17593 | Apply safe work practices in the workplace (Level 2, 4 credits) |
| 17594 | Hearing conservation in the workplace (Level 3, 3 credits) |
| 22316 | Drug and alcohol awareness (Level 3, 4 credits) |
| 30265 | Apply health and safety risk assessment to a job role (Level 3, 8 credits) |

Course Duration
The above courses will take 1-2 days each. Contact us for course duration confirmation.
Vocational Pathways
Creative Industries
Primary Industries
Service Industries
Social and Community Services
Manufacturing and Technology
Construction and Infrastructure
Purpose
The aim of this course is to train a student in providing immediate first aid in an emergency situation in order to save lives. Many workplaces require onsite first aiders, making this course especially relevant for those entering the workforce.
NZQA Unit Standards
| | |
| --- | --- |
| 6400 | Manage first aid in emergency situations (Level 3, 2 credits) |
| 6401 | Provide first aid (Level 2, 1 credit) |
| 6402 | Provide basic life support (Level 1, 1 credit) |

Course Duration
2 days
Vocational Pathways
Primary Industries
Service Industries
Social and Community Services
Purpose
At the successful completion of the course the student will be able to demonstrate knowledge of the fire classes and fire suppression techniques, select and implement a strategy to deal with fire and demonstrate knowledge of evacuation requirements for a particular workplace or site, and explain the duties of a Fire and Emergency Warden.
NZQA Unit Standards
| | |
| --- | --- |
| 3271 | Suppress fire with hand extinguishers and fixed hose reels (Level 2, 1 credit) |
| 4647 | Explain principles of fire science (Level 2, 1 credit) |
| 18408 | Fire and emergency warden duties (Level 3, 3 credits) |

Duration
1 day
Vocational Pathways
Primary Industries
Social and Community Services
Purpose
Knowledge of safe working at heights procedures and use of a safety harness will provide a head start to students looking to pursue trades within many practical industries including construction, infrastructure, and mining. Many trade apprentices including working at heights as a mandatory component (roofing, scaffolding, electrical)
NZQA Unit Standards
| | |
| --- | --- |
| 23229 | Use safety harness system when working at height (Level 3, 4 credits) |

Course Duration
1 day
Purpose
The aim of this course is to enable a candidate to identify hazards and controls within confided spaces; develop an emergency procedure plan; and complete the necessary documentation required for a confined space entry. Trade apprenticeships such as plumbing, gas fitting, or drain laying all require confined space training.
NZQA Unit Standards
| | |
| --- | --- |
| 18426 | Demonstrate knowledge of hazards associated with confined spaces (Level 3, 4 credits) |

Course Duration
1 day
What are Vocational Pathways?


Primary Industries
Services Industries
Social and Community Services
Manufacturing and Technology
Construction and Infrastructure
Creative Industries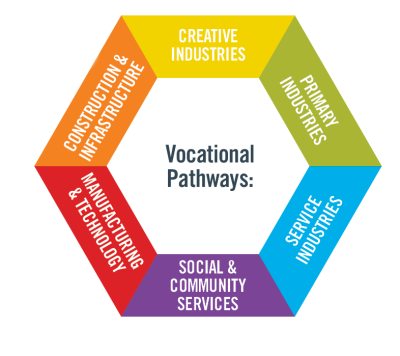 These six pathways represent ways a student can structure NCEA to allow them to staircase into a chosen industry.
For example, a student wanting to become a builder would align their NCEA studies and training with the Construction and Infrastructure pathway.
What is a Vocational Pathway Award?
A Vocational Pathway Award is granted to a student who achieves the minimum recommended NCEA credits for a specific pathway, including credits gained through industry specific training.
What is Industry Specific Training?
At Vertical Horizonz we can work with schools and students to deliver Industrial Safety, Health and Safety, First Aid, and Leadership training as part of our Youth and Careers training. These industry specific courses align with Vocational Pathways and provide students with real life industry skills.
If you would like to find out more about our Youth and Careers course offerings, please complete this form and one of our team will be in contact with you to discuss how we can be of assistance.
close
Evelyn Moody
Evelyn joined VHNZ in 2023 as the Strategic Education Manager before moving into the role of Head of Education (Programmes and Apprenticeships). She comes from a strong background in the public sector and vocational education with a passion for lifelong learning. With almost 20 years' experience in educational design and quality assurance in the Vocational Education and Training sector in New Zealand, Evelyn has a solid understanding of current policy settings, key players, and their interdependencies, across both school and tertiary environments and the pathways to being successful within industry.
Evelyn has extensive qualifications in the areas of education and the public sector, including a Bachelor of Education, Short Course Certificate in Advanced Public Section Knowledge, National Certificate in Public Centre Knowledge and Certificate in Mauri Ora to name just a few.
She is currently Acting Board Chair for the Board of Trustees at St Bernards College, as well as a member of the Ministry of Education NCEA Review – Pathways Panel.
Marcia Hintz
Marcia has recently moved into the newly established role as Industry Manager after managing the Quality and Compliance side of VH for the past year. Prior to that, Marcia was a VH Contract Trainer working across all regions, covering a range of learning areas including Chemical Handling, Health and Safety and Adult Education.

Prior to joining VHNZ, Marcia had spent the past 30 years in Education, holding various leadership roles and major projects which included widespread literacy/numeracy initiatives, learner engagement research and action as well as curriculum design and digital and collaborative learning. Her communication skills and comprehensive understanding of learning will help to translate industry needs to robust training solutions, ensuring apprentices are being delivered training that is relevant and real.

"Working with employers and apprentices to understand and develop programmes to best meet their needs, will be the key to successful learning outcomes"
Conor Higgins
Conor has been with VHNZ for over 4 years as a Client Liaison. During this time, he has gained great industry insight and has a strong passion for education and safety.

Prior to working for VHNZ he held roles in both customer service and within the complaints department for a leading NZ consumer and appliance retailer. This built on his experience with customer relations and communication which is something he brings with him to this role. Conor has also worked in hospitality around the Auckland region.
Mark Powley
Mark comes to VHNZ from an ITO (Industry Training Organisation) background, and he is committed to helping apprentices achieve their qualifications.

Marks' experience includes 17 years of managing Trades Apprenticeships and Industrial Vocational training, various Trade and Industrial safety roles, and has an Adult Education background and qualifications.
Fonua Maka
We are all on a journey and Fonua's journey has led him to VHNZ as a Training Advisor. Growing up as a Tongan in Mangere, tauhi vā (to nurture and care for the relationships between people) is one of the Tongan core values. It is more than maintaining good relationships; to Fonua its loyalty and keeping commitment to those we care about.

Fonua's primary aim is to assist and support others as they navigate through their own journey, and to see them develop and achieve their goals is something he is very passionate about. After 3 years as a Business Support Coordinator, he looks forward to connecting and serving others wherever they are on their journey.

Prior to VHNZ Fonua worked as a Business Support Coordinator for IMNZ and David Forman. Other roles include: IRD Customer Service Officer and Facilitator, and a security guard at SkyCity. Outside of work, he has coached various sports teams and is currently mentoring a young student.
Adan Te Huia
Adan is a VHNZ Training Advisor for the Central North Island, a role he moved into after working as a Contract Trainer for VHNZ. Adan has held both Technical and Project Management roles while working in the Civil Infrastructure sector for Beca Infrastructure Ltd, Transfield Services Ltd, Fulton Hogan and Downer Ltd. Having experience within such positions himself, Adan has a great ability to connect to apprentices and is appreciative of the physical mindset and approach that is required to get these jobs done.

Prior to VHNZ Adan worked as a GIS Project Manager for the Maniapoto Māori Trust Board and Supervisor for the Department of Conservation, Maniapoto District. Intricate roles that focused on customer service and stakeholder relations, further highlighting Adan's professional aptitude to deal collaboratively with individual businesses.

Adan brings with him vast experience in the trade industry and beyond, a hands-on individual who is empathetic to dealing with the difficult issues but committed to encouraging individuals to attain their goals!

Outside of work, Adan spends a fair bit of time underwater with a passion for diving.
Jamie Lakisa
Jamie has been with Vertical Horizonz for over 3 years. Following completion of his 4-year business degree from the University of Canterbury, he joined VHNZ and has worked in a variety of roles from post course and Client Liaison through to Marketing. Jamie has completed further certifications during this time including NZ Certificate in Health and Safety Level 3 and NZ Certificate in Rope Access Level 3.
His wide knowledge of the VH products and systems will help him to best support our learners and he looks forward to assisting and supporting trainees into a trade to further set themselves and their whanau up for life.
With a background and expertise largely within sales & marketing, he has been heavily involved with digital marketing, is focused on connection, and has a strong awareness of community training requirements. Jamie serves on the board of the Tauranga Māori Business Association (supporting Māori business owners), and works closely with the chamber networks & Pasifika in the Bay of Plenty. "Supporting Māori and Pasifika is a passion of mine, and it is something I look forward to doing with my VHNZ cap on".
Other experience includes: Volunteer, Team Building Facilitator, Digital Consultant.
Pat Hokianga
Pat is based in Tairāwhiti supporting the East Coast and Hawkes Bay regions. He has established a strong network with various Ministries, Iwi, and local businesses providing training pathways for their people.

Pat is an ex-serviceman (serving 24 years in the NZ Army) who completed an apprenticeship as an Automotive Engineer. Upon leaving the NZ Army he worked for the United Nations based in Afghanistan managing the Disarmament, Demobilisation and Reintegration Program (DDR). He has extensive hostile environment experience as well as managing security contracts and staff training for International Companies.

Pat joined the Vertical Horizonz team in 2015. Since then, Pat has been delivering NZQA Standard courses with a focus on the crane industry and associated training. While Pat is not working, he enjoys a round of golf.
Vinny Mutingwende
Vinny comes to VHNZ with experience as a Licensed Building Practitioner, an Assessor, Tutor, and Adult Education teacher. With this raft of knowledge in the building and education sectors, Vinny is looking forward to utilising his skills whilst assisting apprentices on their journey through their qualifications.
Hayley Paki
Hayley has a wealth of experience in the Scaffolding/Rigging industry having spent 25+ years in various roles throughout both Australia and here in New Zealand. He brings with him a maturity and calmness to the Training Advisor role and looks forward to meeting with apprentices and assisting them to progress and achieve.
Mark Handley
Mark has worked for Vertical Horizonz as a contract trainer and employed trainer over the last five years facilitating First Aid, Fire Safety, Chemical safety, Confined Space Entry, Breathing Apparatus and health and safety courses.

With a diverse range of skills learnt through the Emergency services, Building and Construction sector and manufacturing industries, Mark has the motivation and the ability to impart knowledge and skills to others so they can themselves learn and develop within their respective industries.

His past employment history includes Construction (Carpentry), manufacturing Fields (Quality assurance) and Emergency services (Ambulance and FENZ). While employed by Firestone/Bridgestone New Zealand, Mark worked alongside the Health and Safety officer and trained as Department of Labour Health and Safety Level 1 Accident prevention and investigation. This led him back to the construction industry in Health and Safety, where he oversaw all site inductions, audits, and daily safety checks, and worked to improve the health and safety culture within job sites via training and education.
Tony Boyd
Tony is a strong communicator with a wild sense of humour that takes pride in helping others and will do his best to support your success where possible.

Having previously taught English in Japan, worked in the public service and had a number of customer service roles, Tony prides himself on his communication skills. This he sees as a fundamental pillar to assisting apprentices through their journey, keeping these trainees informed and listening to what they have to say.
Darren Brown
An individual with a passion for helping others to achieve goals and develop skills that assist them to become an effective member of their work group. Prior to this role Darren carried out 10 years in the New Zealand Military (Air Force crash rescue), 19 years as a Firefighter with the fire service and 7.5 years as a Health and Safety trainer.

Darren brings a wealth of knowledge and experience to VHNZ, and he looks forward to creating further connections in his region and assisting trainees to pursue their goals.